Who We Are
Birth Defect Research for Children, Inc. (BDRC) is a 501(c)(3) non-profit organization that provides parents and expectant parents with information about birth defects and support services for their children. BDRC has a parent-matching program that links families who have children with similar birth defects. BDRC also sponsors the National Birth Defect Registry, a research project that studies associations between birth defects and exposures to radiation, medication, alcohol, smoking, chemicals, pesticides, lead, mercury, dioxin and other environmental toxins.
BDRC operates from offices in Orlando, Florida with a staff and community volunteers under the guidance of a Board of Directors and a Scientific Advisory Board. Each year, BDRC responds to thousands of birth defect information requests from all over the world. BDRC's on-line environmental health updates provide thousands of parents, professionals and organizations with daily news on the latest birth defect research. BDRC's birth defect information is also available by phone: (407) 895-0802, 9-5 EST, Mon-Fri or mail by writing to BDRC, 976 Lake Baldwin Lane, Suite 104, Orlando FL 32814
How We Started
Betty and Mike Mekdeci's son was born with birth defects in 1975. The Mekdeci's investigations into the cause of their son's problems led them to contact the FDA about medications prescribed for Betty during her pregnancy. Whistleblowers at FDA told the Mekdeci family to focus on Bendectin, a medication approved to treat nausea and vomiting during pregnancy. The Mekdeci's efforts led to Bendectin's removal from the worldwide market in 1982. During their 7 years of research on Bendectin, the Mekdecis found that many toxic exposures had not been adequately studied as potential causes of birth defects. They also discovered that very little information was available to parents who wanted to find out more about their child's birth defects. The Mekdecis founded the Association of Birth Defect Children (now Birth Defect Research for Children) in 1982 to provide birth defect information to parents and to investigate the causes of birth defects that could have been prevented.
Financial Information
Birth Defects Research for Children is committed to full financial disclosure and informational transparency. In an effort to share critical information with all of our stakeholders, the information on this page is made available in its original form for use by donors, our community and parents.
In The News
Birth Defect Research for Children's Executive Director was asked to review an article on "Environmental Factors in Birth Defects" that was published in the October edition of Environmental Health Perspectives, the journal of the National Institute of Environmental Health Sciences. Below is an excerpt from the article: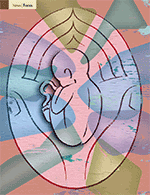 "Betty Mekdeci, executive director of the advocacy group Birth Defect Research for Children, says there are many problems with the basics of how birth defects are tracked and evaluated. To overcome some of these problems, Mekdeci and her colleagues have developed an alternative method of tracking birth defect incidence based on parent responses to a lengthy questionnaire. About 6,000 completed questionnaires have been collected since 1990. Mekdeci and her staff analyze the questionnaire responses for patterns, and she reports they have identified about half a dozen clusters so far. Although the group readily acknowledges these are self-reports from a self-selected population, some of the clusters have later been confirmed by various government agencies. For instance, in Dickson, Tennessee, they detected a cleft palate cluster that was confirmed by the CDC. The group sees its role as identifying birth defect cases and then encouraging health agencies to investigate."
To view a copy of the full article: Environmental Factors in Birth Defects